Learning Activities for the eLibrary Website
You can view the activity in a larger format by clicking on the three dots and choosing the expand to full screen option. There is also a button below each activity page for opening the activity in a new tab.
The learning activities above are often referred to as choice boards or choice grids. You can make your own using Google Slides. Watch this video tutorial to see how they are created. For templates visit this site.
Learn More Tutorials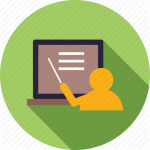 There are a huge amount of websites listed on eLibrary. How can you know which is right for you? These Learn More tutorials will give you a quick overview of some of the websites and help you choose a "just right site" for you. You will also find these tutorials located underneath the related resources throughout the website.

In addition, you will find a notepad symbol located near bottom of some resource pages which links to brief descriptions of each web resource and provides a suggested grade level of interest and, where appropriate, grade level curriculum matches.
| | |
| --- | --- |
| Website Descriptions on eLibrary Tutorial | |
| Audio & Video Books | eBooks |
| Guided Inquiry Tutorial | Magazines & Nonfiction |
| Podcasts: Fiction | Podcasts: Nonfiction |